East riverwalk must go forward despite high cost, Waco leaders say
By J.B. SMITH jbsmith@wacotrib.com | Posted: Tuesday, September 13, 2016 8:35 pm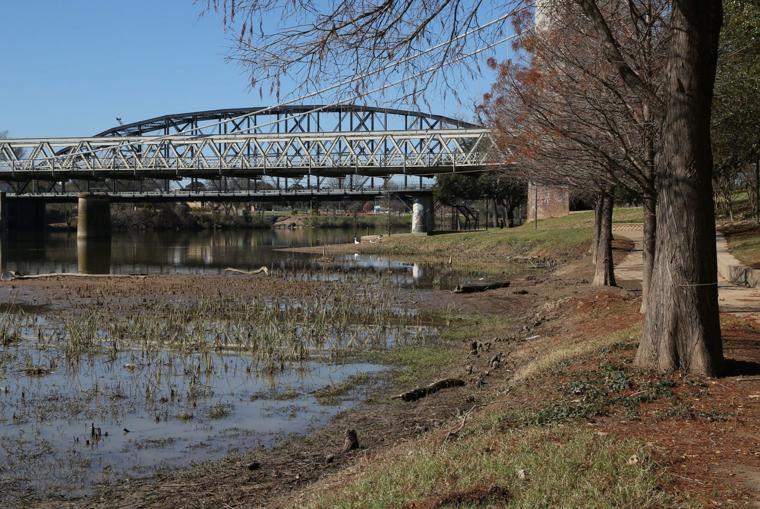 Riverwalk ra2
The east riverwalk project would continue the lighted trail from its end at Franklin Avenue, shown here, to McLane Stadium.
A million-dollar budget gap must not be allowed to derail the project to build an east riverwalk to McLane Stadium, Waco Mayor Kyle Deaver said Tuesday.
In a budget and audit committee meeting, Deaver said the project is essential for connecting the stadium to downtown.
"We can't not do this," Deaver said. "It's just a matter of what we can do."
Dillon Meek, the only other council member present at the meeting, agreed.
"I think it's a really critical project," Meek said. "It's a critical next step in making downtown more pedestrian-friendly and user-friendly."
Parks staff had budgeted $3.3 million for constructing the 0.6-mile lighted concrete trail, with $2.7 million coming from a federal transportation grant and $676,000 from the city. But on Aug. 30, the low bid came in at more than $4.4 million.
Even with contingency funds the city had set aside, city officials would still have to find nearly $800,000 to bridge the gap.
City parks staff advised against rebidding the project, saying there is no guarantee prices would do down. City park planner Tom Balk presented a list of possible design changes Tuesday that could bring down the overrun by as much as $595,000.
Some of those changes would fundamentally alter the project and were not recommended by staff, including using decomposed granite instead of concrete in some sections and eliminating a $200,000 bridge over a ditch on the edge of McLane Stadium, with a bypass leading to the stadium entry.
"If you're just a riverwalk user, that's effectively a dead end," Balk said.
Parks officials were more favorable about using steel supports instead of concrete, using a less costly coating on the metal understructure and eliminating a $210,000 overlook across from the Waco Downtown Farmers Market.
Bridge is essential
Deaver said the bridge to Baylor is essential, and he doesn't want to lose the overlook, which is the only place on the trail with benches. Deaver also said he is skeptical about scrimping on metal coatings.
"I don't want to do something we'll pay the price for later," he said.
Deaver said staff should pursue some cost-saving measures, including using metal instead of concrete supports, but the city also should be prepared to shoulder the entire cost if necessary.
Assistant City Manager Jack Harper said the city may have enough fund balance left over from the 2015-16 budget year to cover the entire cost. Harper said the funding picture will become clearer in mid-October, when the city gets its next sales tax reports.
In the meantime, the city is required to give an answer by Sept. 29 to the Texas Department of Transportation on how it will proceed with the project, but Harper said not all funding decisions have to be made by then.
The council has until Nov. 15 to award the contract for the project. Construction is to begin in January, with an opening expected in spring 2018.
Source: Waco Tribune
http://www.wacotrib.com/news/downtown_waco/east-riverwalk-must-go-forward-despite-high-cost-waco-leaders/article_5ca2c90c-dfd6-55fb-8b8d-b378cfefad7b.html